Well-Known Member
Staff member
Moderator
I've desired a home theater of my own since I first stumbled on to the Sound and Vision forum looking for advice on how to make my HTIB suck less. Since then I've read about and visited some truly impressive home theaters. I don't think I can ever compete with those spaces (I'm looking at you Batman, Flint, lawdog, Soundound, et al) but I'm finally close to having a space that I think will satisfy my HT desires for a while.
We recently moved into a 26 year old home in NW Houston. We fell in love with the house as soon as we saw it but the fact that it had a game room that I could "convert" to a home theater was icing on the cake. I've posted before about the space and implied that I was helping someone else. Thats because when I made those posts I hadn't yet closed on the purchased the house, and I didn't want to jinx it.
The space didn't really need much more than wiring to make it work. The cabinets will make a perfect home for all of the electronics and media. I've got a good friend who's an accomplished finish carpenter and he's going to help cleanup that center section by adding a partition and three glass doors.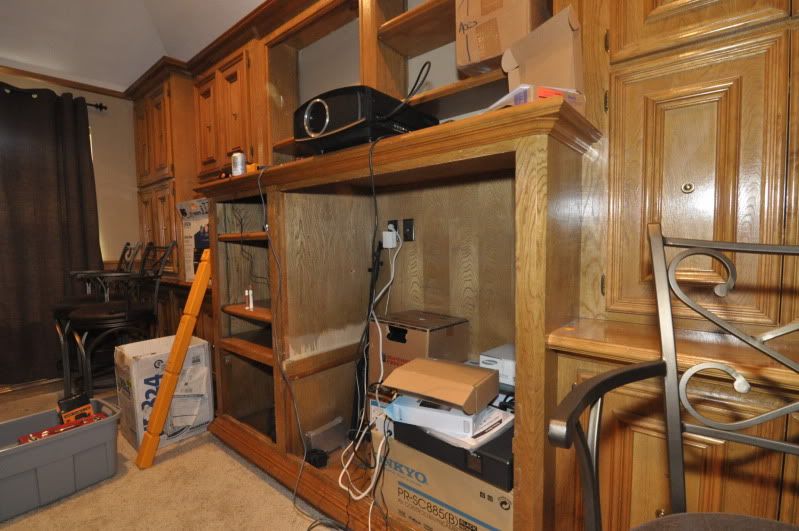 Since I'm waiting on that I went ahead an installed all the cabling I think I'll need; Six RG6 cables (one for the cable modem, four for the front speakers and sub, and one for the OTA antenna in the attic). While I was at it I ran three cat5e network cables (one to the outside for telephone service, and two more for ethernet to other rooms upstairs). I was dreading this because I know what a PITA it is to run concealed wiring in an existing house. It turned out to be a piece of cake because by some miracle there happened to be a vertical chase between the wall in exactly the right spot. At the font of the room is a small attic so all I needed to do was fish the cables to it. You can see the opening in the shots below. All said and done it took me maybe an hour to run all the cables. What a stroke of luck.