A little more than two years ago, I set out to create a home theater company focused on fully integrating home theater systems into beautiful cabinets that blend into the décor of any room. Flint worked more than a year designing a fully active speaker system built around WiSA certified plate amplifiers. I spent months researching TV lifts before sourcing one from the U.S. distributer for a European design firm. I collaborated with a California-based company on a fully integrated active cooling system to prevent thermal damage to game systems and other hot components. I worked with another firm that does custom laser cut panels and sourced high quality acoustic fabric from another vendor. The cabinet design went through multiple iterations. Two years later, I have a fully operational proof of concept.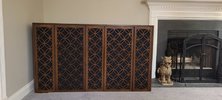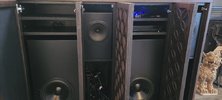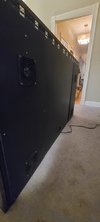 The audio system consists of three fully active bookshelf speakers built around a 6 inch coaxial driver. A dedicated 20 watt amp runs the 3/4" tweater and a 50 watt amp drives the 6" midrange. Signal arrives via an integrated WiSA receiver and is distributed to the amplifiers by way of a full-featured DSP chip running custom firmware. The subwoofers are built around 10" DVC (Dual Voice Coil) drivers powered by 150 watt plate amps with integrated WiSA receivers and DSP-based crossovers set up with custom firmware. This arrangement makes it simple to add surround speakers up to seven channels and as many additional subwoofers as desired. The cabinet contains a 3.2 system.
Each of the five compartments in the front of the cabinet contains two variable speed, thermostat controlled exhaust fans. The display lift compartment in the rear contains four more thermostat-driven fans to vent air when the display is down and the audio system is running, should sufficient heat build up.
The cabinet dimensions are 63.5" wide X 36.75 high x 24" deep. It is as small as it can be and still safely contain a 65" display.